Darien's Leading Plumbing Services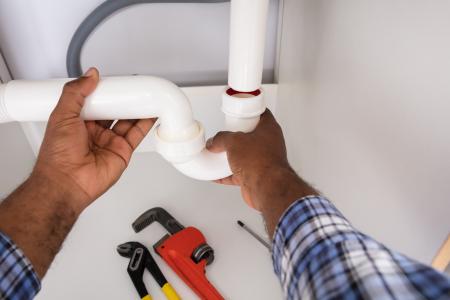 If you need a trusted Darien plumbing and heating expert to help in your home when things go wrong, turn to Comfort Masters! Chris Valenzano and his crew have proudly served Darien and its surrounding areas for more than 20 years now, helping them with all their plumbing and heating needs both big and small. Ensuring our customers' comfort, safety, and satisfaction is key to our business, and we take great pride in doing excellent work for our fellow locals every day!
Comfort Masters is licensed and insured. We are locally owned and operated, and all of our technicians are screened and drug tested- after all, we want our clients to feel secure about who they let in their homes. We treat our customers with respect, offer convenient payment options, and use top-rated products and service techniques. Because we want our customers to feel confident in their decision, we offer a two-year warranty from the date of installation for all our materials and workmanship (except for drain cleaning).
We stand by our work and want our customers to be completely satisfied with our service. Our dedication to superior service and customer satisfaction has helped our business continue as a staple of the Darien community since 2002. If you need a trusted plumbing and heating expert for your home, you can always depend on Comfort Masters!
A Trusted Crew For Heating Repairs In Darien
When your heating systems aren't working properly, the comfort and quality of life in your home can be significantly affected. Not only are heating system issues troublesome, they can even be hazardous to your health if left ignored. That's why you shouldn't hesitate to get your faulty heaters fixed ASAP!
Comfort Masters can assist in fixing faulty heaters with our boiler and baseboard heater repairs. If your systems are old and need replacement rather than repairs, we offer installation for these systems as well. No matter what problems your heater is having, we'll work closely with you to find the solution that suits you best!
Darien's Five-Star Plumbing Contractor
No matter how big or small your plumbing problems are, you deserve a plumbing contractor who takes your issues seriously and works to find the best solution. We've helped countless customers in Darien with their plumbing needs, from simple routine tasks like drain cleaning to the installation of new gas lines, water heaters, and plumbing systems.
As a locally owned and operated company, our clients are essentially our neighbors, and we always treat them as such. From plumbing maintenance and repairs to installation for new plumbing systems, we've got your back!
A Quick Fix For Clogged Drains
Most people don't think to call a plumber for a clogged drain, attempting to eliminate it on your own first. However, you could be doing your plumbing a lot more harm than good, especially if you're using chemical drain cleaners. If your pipes are clogged up, give Comfort Masters a call. We can provide a safe, quick fix for your plumbing problems at prices that won't break the bank!
About Darien
Sitting along the coast of the Long Island Sound, Darien offers its local coastal community living at its finest. Though it's less than a two-hour drive from NYC, Darien's scenic beaches, peaceful parks, and cozy community thriving make it a peaceful seaside retreat from the bustle of the big city. Comfort Masters has proudly served Darien for over 20 years, and we're here to serve it for many more years to come. If you need expert heating or plumbing services in Darien, call us today!
YOUR COMFORT MATTERS! REACH OUT TO OUR PLUMBING & HEATING EXPERTS IN STAMFORD TODAY!