Quality Wilton Plumbing Services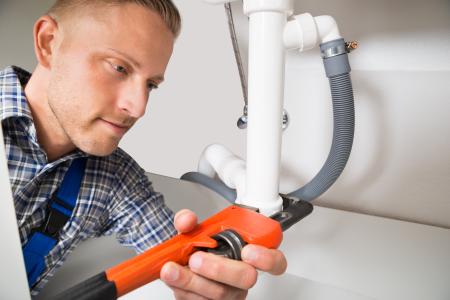 Are plumbing problems driving you nuts? If your Wilton home is in dire need of heating or plumbing services, the crew at Comfort Masters is here to save the day! We depend on our plumbing every single day, so even minor problems can be seriously disruptive to your comfort and security. When plumbing issues strike or your heater goes on the fritz, you can count on Comfort Masters to deliver a quick, long-lasting fix on the double.
Our seasoned plumbing professionals handle a wide array of plumbing and heating repairs, installation, and maintenance services. Whether you just need a small fix for a leaky faucet, an urgent service like gas line repair, or help installing brand-new plumbing fixtures, we've got you covered.
Comfort Masters is licensed, insured, locally owned and operated, and staffed by trained technicians who are screened and drug-tested for our customers' security. We've proudly served the Wilton community since 2002, and we'd be glad to have you join our Comfort Masters family too. If you need any of our services, give Comfort Masters a ring today!
Staying Toasty With Dependable Heating Repairs In Wilton
Winter's coming- do you know if your heater's up for the task of heating your home? When winter sends temperatures plumbing across Wilton, the last thing you want is to have your heater start giving you problems. So if your baseboard heater isn't keeping you toasty, or your boiler's making weird noises, let the Comfort Masters heating repair crew check it out and fix the problem so you can stay snug all winter long!
Wilton's Top-Tier Plumbing Professionals For Superior Service
Wilton locals have counted on Comfort Masters for top-of-the-line plumbing services since 2002. Our dedicated team of plumbing and heating experts is prepared to address any residential heating or plumbing issue, big or small, to ensure your home remains comfortable. Whether it's a malfunctioning water heater, clogged drains, or boiler installation, we're here to provide the solutions you need for uninterrupted comfort in your daily life. Contact us to restore your Wilton home's essential comforts.
Prompt Pipe Repairs For Plumbing Emergency
When your plumbing springs a leak, you need a team that responds promptly to save the day. At Comfort Masters, we understand that unexpected pipe issues can disrupt your daily life. Our skilled plumbing experts are ready to tackle these urgent issues swiftly and efficiently, clearing up your plumbing problems without delay.
Whether it's a burst pipe, severe leaks, or any other plumbing crisis, you can rely on us to provide the necessary repairs and restore peace to your Wilton home. Don't let plumbing emergencies ruin your day - call Comfort Masters right away!
About Wilton
Wilton is known for its picturesque scenery, historic sites like the Weir Farm National Historic Site, and its vibrant town center. Residents of Wilton can benefit from Comfort Masters' plumbing services to ensure their homes and properties maintain the highest standard of functionality and comfort, whether they reside in local charming neighborhoods or the rural areas surrounding our idyllic town.
YOUR COMFORT MATTERS! REACH OUT TO OUR PLUMBING & HEATING EXPERTS IN STAMFORD TODAY!