Norwalk Plumbing Services You Can Count On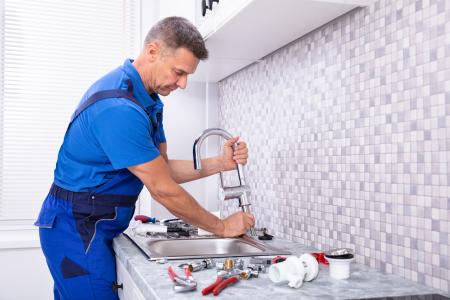 When your Norwalk plumbing needs a little tuning up or a big fix, the team at Comfort Masters is here to help! With a dedicated team of trained, licensed, and insured professionals, Comfort Masters has been taking care of Norwalk locals' heating and plumbing issues since 2002. Our commitment to excellent service and high-quality work that stands the test of time has made us a contractor that Norwalk homeowners can count on for help.
As a locally owned and operated company, our customers are essentially our neighbors. We treat them as such, providing them with prompt, respectful service, fair pricing with convenient payment options, and a two-year warranty from the installation date on all our materials and workmanship (except drain cleaning).
Our tireless commitment to customer satisfaction has led our customers in Norwalk to choose us time and time again. We'd be proud to have you join the Comfort Masters family too; so if you'd like to request a service, call us today!
Norwalk's Superior Choice For Heating Repairs
Maybe your boilers started making some funny noises, or perhaps your baseboard has started putting out a weird burning smell when you turn it on- or simply isn't putting hot air out at all. Whatever the issue is, something's up with your home heating system. Where do you turn for help?
Comfort Masters has been fixing, replacing, and maintaining heating systems in Norwalk for decades. If your home's heating system is on the fritz, we'll get to the bottom of it and fix it fast so you can relax back into your warm and cozy home with peace of mind!
Stress-Free Plumbing Service In Norwalk
Few things are more frustrating than your home developing a plumbing problem. Even something as simple as a toilet that won't stop running can drive you crazy if you can't figure out how to fix it!
Plumbing problems can range from annoying inconveniences to significant threats to your health and your home's structural integrity. Whatever the problem is, you need a contractor who can take care of it fast. We proudly offer a comprehensive array of maintenance, repairs, and installation services to address all of your home's plumbing issues. Simple or complex, big or small, there's no job we aren't proud to handle for our Norwalk neighbors!
Quick And Clean Plumbing Repairs
Lost water pressure in your shower? Toilet won't flush right? Sink won't stop dripping? Faulty plumbing can impact your comfort, health, and hygiene. Luckily, Comfort Masters's plumbing pros are always ready to quickly provide long-lasting fixes for your plumbing woes.
Just a few of the basic plumbing repair services we offer include:
Shower Repair
Toilet Repair
Tub Repair
Pipe Repair
Don't let faulty plumbing drive you nuts. Our hard-working plumbing pros will fix your problems in no time!
About Norwalk
The idyllic coastal community of Norwalk is renowned both as a relaxing destination on the Long Island Sound and as one of the best communities to live in Connecticut. Norwalk's beaches, boardwalks, and neighborhoods draw visitors from far and wide, while local institutions like the Maritime Aquarium have earned national attention.
Norwalk is just one of the many local communities that Comfort Masters serves, and we're proud to call its residents our neighbors. If you need heating or plumbing services in Norwalk, give us a call today!
YOUR COMFORT MATTERS! REACH OUT TO OUR PLUMBING & HEATING EXPERTS IN STAMFORD TODAY!